How to identify mold in Commercial Buildings in Braintree, Ma
7/8/2019 (Permalink)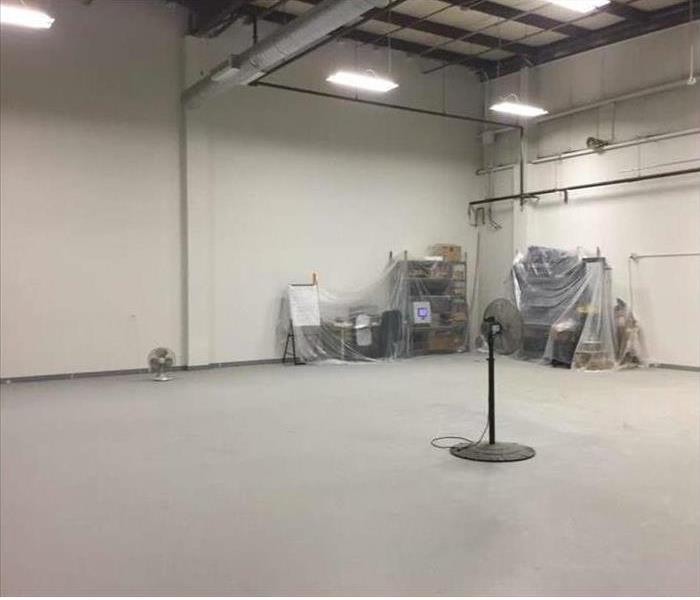 How to Prevent Mold in Commercial Buildings
Eliminate the health risks associated with mixing mold and human contact by following these tips to prevent mold from growing inside your commercial buildings.
Stay vigilant: Mold can be sneaky, growing in places you may never have thought. Create a routine inspection plan, specifically searching for signs of mold or where mold might grow: damp surfaces, high moisture areas, spotty or fuzzy stains on walls, floors, and carpeting, and musty smells. If you employ janitorial staff or contract this work out, request to be notified of any moldy areas or areas where mold could grow.
Make repairs: Cracked foundations, leaky roofs, and unsealed windows and door frames are all problems ripe for causing mold to grow. Repair building issues as soon as they occur, and always try to catch leaks and water damage before the wetness can lead to a moldy disaster.
Decrease moisture: The climate or geographic location in which your commercial building resides may mean humidity is always at a high. Since damp air makes it easy for mold to grow, consider installing dehumidifiers, or running smaller units in basements, attics, and such to help keep things dry.
Clean at the core: Your building's heating, ventilation, and air conditioning (HVAC) can increase the blowing around of mold spores. While it may not be 100 percent stoppable, you can reduce the transfer of spores by making sure the HVAC systems and ducts are regularly cleaned and maintained.
Bring in a pro: Every commercial building's needs are different, so sometimes to effectively prevent mold from growing, you need a mold remediation specialist to custom tailor a plan to fit your structure. Working with a mold remediation specialist can help ensure that any existing problems are responded to quickly and that moving ahead, you'll stay free and clear of mold-related damage and health concerns.
If you suspect mold in your commercial Building, call SERVPRO of Milton/Braintree 781-341-7007.