Fire Hazards From Faulty Appliances On The Rise
3/11/2019 (Permalink)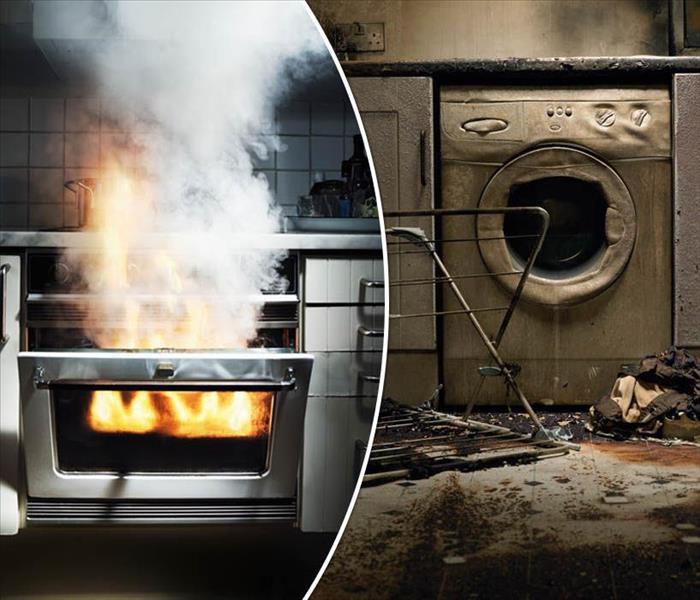 If you are experiencing fire or smoke damage resulting from an appliance or electrical malfunction, contact us 781-341-7007 today.
The number of fires caused each year from faulty appliances is on the rise.
Dryer Fires
Dryers are one of those appliances in your home where you "set it and forget it." You throw your freshly washed clothes into the dryer from the washing machine, set the timer and then forget about it until the timer goes off 50 or 60 minutes later. However, did you know that by "setting and forgetting" about the clothes in your dryer, you could be putting your home at risk for a fire? According to the National Fire Protection Agency (NFPA), there are over 16,000 reported home fires each year resulting from a clothes dryer, with dust, lint or fiber igniting first in just under 30% dryer fires. If you haven't cleaned your dryer in a while, performed routine maintenance or notice a crushed or broken exhaust vent, a dryer fire could be lurking in the shadows. SERVPRO of Milton/Braintree cleaning and restoration professionals have fire cleanup experience and can assist you in the event of a needed cleanup due to a dryer fire.
Oven Fires
The kitchen is the focal point in many homes throughout the South Shore. Family meals are prepared, holiday gatherings take place and family conversations that turn into memories are made in this one important room. While the kitchen is an essential location in everyone's home, what happens when a fire erupts? Aside from stove and dishwasher fires, ovens can also burst into flames, and often happens as a result of an overflow of dessert batter, leaving the oven unattended for an extended period of time, splattering fat or grease or food scraps burning on the bottom of the oven. To assist in the prevention of an oven fire, always monitor the cooking food, use tin foil or a pan cover to conceal items that may splatter or boil over and routinely clean the oven and coils to prevent burning.
Microwave Fires And Smoke Damage
Similar to other appliances in your kitchen, microwaves can also start a fire when food items overheat, inappropriate items are placed in the microwave for heating, faulty wiring or when cleaning and routine maintenance has not been performed. Since microwaves use radiation to heat the placed items, it essential to follow the manufacturer's directions when using the appliance and never attempting to heat an item that is not microwave-safe, such as metal objects, tin foil, or recycled paper. Routine cleaning and maintenance to ensure the appliance is running correctly and efficiently will also assist in the prevention of an unexpected microwave fire. SERVPRO of Milton/Braintree is an independently owned and operated business that is IICRC certified, and can assist in the cleanup process.
Other potential causes could be:
Fire damage from overloaded electrical circuit
Electrical fire from old wiring