Preparing For A Winter Storm
11/26/2018 (Permalink)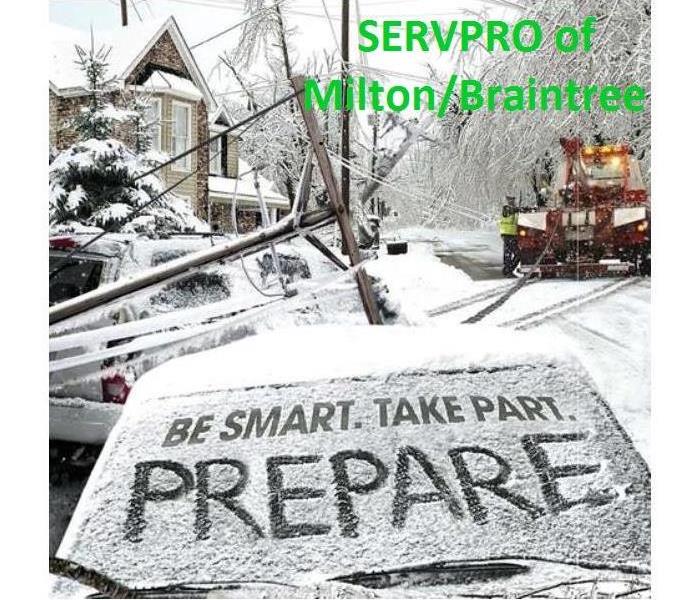 Damage to your home or power outages lasting several days may be possible. Preparing before the storm can help you protect your family and your home.
Severe winter storms can have a tremendous impact on individuals, animals, and communities.
Cold temperatures, snow, ice, blizzard conditions with high winds and dangerous wind chills can all occur, leading to personal injury and possibly deaths. High winds combined with cold temperatures speeds the rate of heat loss to the body making serious health problems, such as frostbite or hypothermia more likely. Additional fatalities may occur from vehicle accidents, fires or carbon monoxide poisoning following the misuse of heaters. Dangerous driving conditions can lead to travelers being stranded on the road. Accumulations of snow and ice can result in road closures or blockages – isolating homes and farms for days. The heavy weight burden may cause roofs to collapse or knock down trees and power lines resulting in power outages and subsequent loss of heat in homes. Animals are also at risk during severe winter weather and are subject to wind chill factors, hypothermia and frostbite. Deaths can also occur due to dehydration, when water sources freeze and become unavailable. Winter conditions may make getting food and water to animals more difficult. Unprotected livestock may be lost. Businesses must also make preparations for winter storm situations. Protection of their employees will be necessary to ensure their safety. Employees that must work outdoors during extreme situations should be provided the necessary education on risk and measures to stay safe.
During A Winter Storm:
Keep as much heat as possible inside your home.
Check the temperature in your home often during severely cold weather. Avoid unnecessary opening of doors or windows. Close off unneeded rooms. Stuff towels or rags in cracks under doors. Close draperies or cover windows with blankets at night
Use battery-powered flashlights or lanterns rather than candles, if possible.
Never leave lit candles unattended.
Leave all water taps slightly open so they drip continuously.
If back-up heating sources are needed
Never place a space heater on top of furniture or near water. Use electric space heaters with automatic shut-off switches and non-glowing elements. Keep heat sources at least 3 feet away from furniture, drapes, or bedding. Never cover a space heater. Never leave children unattended near a space heater.
Never use a charcoal or gas grill indoors—the fumes are deadly.
Dangerous carbon monoxide can be generated.
If backup power supplies are needed
Never use an electric generator indoors, inside the garage, or near the air intake of your home because of the risk of carbon monoxide poisoning. Do not store gasoline indoors where the fumes could ignite. Use individual heavy-duty, outdoor-rated cords to plug in other appliances.
After A Winter Storm:
Assess the situation.
Make sure heating systems are working. Make sure water pipes are working. Look for any damage that may have occurred to your home
If your pipes do freeze
Do not thaw them with a torch. Instead, thaw them slowly by directing the warm air from an electric hair dryer onto the pipes
Carbon monoxide poisoning
Buildup of this odorless, lethal gas can occur from the use of alternate fuel sources, or gas powered equipment or vehicles. Ensure good ventilation is available before using any of these items.
If there are no other problems, wait for streets and roads to be plowed before you drive anywhere.