Why it may be hard to find Mold in Milton, MA
5/20/2019 (Permalink)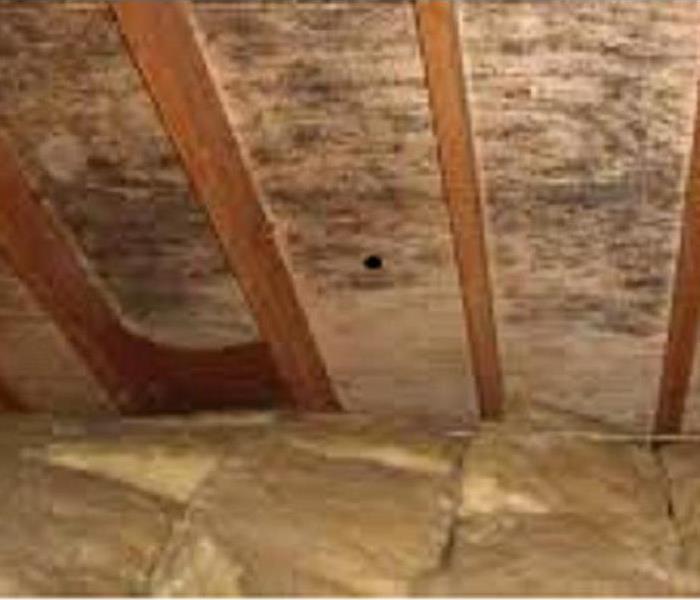 You may not spend much time in these rooms of your home. Not only does this mean you're less likely to notice mold, it also means that mold is more likely to grow due to poor ventilation. This, combined with the dark, cold nature of attics, basements, and garages, makes mold highly probable.
In the attic
Mold in the attic is a huge problem — they can contain a lot of your ventilation systems and, if left unchecked, can spread mold throughout the rest of your home. In your attic, check for mold:
On the roof, near any possible leaks
In your insulation
Near any vents from the kitchen, bathroom, or laundry room/dryer
Near your water heater or furnace
Around your soffit vents (these are the vents near the bottom of the roof that provide ventilation to the attic)
To prevent mold from growing (and spreading) in your attic, you can:
Repair any roof leaks as soon as possible
Use the proper type of insulation
Properly vent items outside, instead of into your attic
Keep soffit vents clear to allow air flow
Keeping your gutter cleaned and in good repair, especially in rainy months
In the basement
Everyone knows that musty basement smell, but your basement doesn't have to fall victim to that odor if you keep the mold out. There are a lot of areas that are prone to mold growth here, as this tends to be a moist area of the house, so here are a few reminders on where to look:
Around pipes and ducting ( look for leaks, excess moisture, and condensation)
Near areas where the foundation may be leaking
Near a sump pump
Windows or vents where condensation might gather
Some tips for preventing mold growth in the basement:
Use a dehumidifier to keep your moisture levels low
Paint with waterproof or mold resistant paint
Check and repair any leaky pipes or foundation leaks
Make sure there is adequate ventilation
Waterproof the exterior of your basement and fix drainage issues
In the garage
Rain from your car and water leaks from the roof are two of the main ways mold gets invited into your garage. If you use your garage for storage of old items or cleaning supplies, you may find mold growing in places you wouldn't expect. Be sure to check for mold:
Behind or under any storage areas that don't get moved around very often
Around the garage doors and windows
In areas where water may be standing for long periods of time
Keep mold at bay in your garage by:
Using a dehumidifier to keep moisture levels low, especially during wet months
Use a waterproof or mold and mildew resistant paint for the walls and concrete in your garage
Use a squeegee to remove standing water from the floor
Try to introduce sunlight and ventilation, when possible
If you believe you have mold in any of these location reach out to SERVPRO of Milton/Braintree.