What to do if your hot water tank leaks in Braintree Ma
8/1/2019 (Permalink)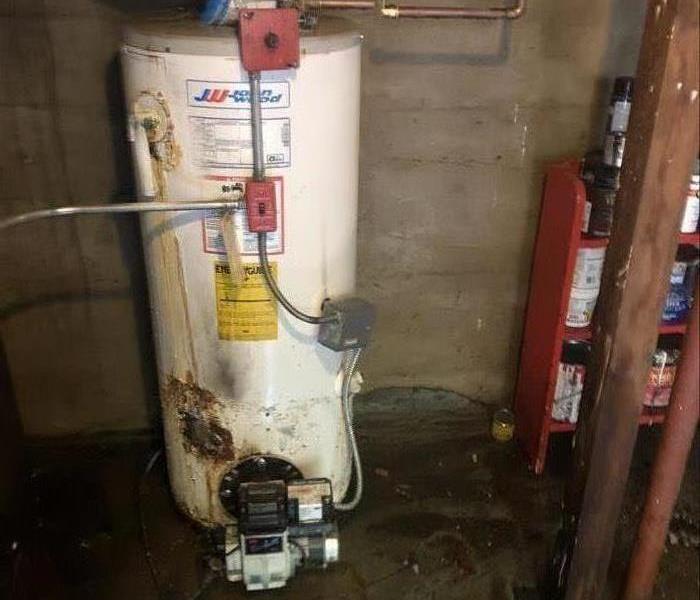 When a water heater bursts in a home, it is a shocking event, not to mention a messy one, and it could potentially cause a lot of expensive damage. If your hot water heater burst, you're probably wondering why this happens and what to do next.
In general, the basic reason why hot water heaters burst is that there is corrosion within the tank, which can lead to the tank bursting at its seams. Unfortunately, there are several possible underlying causes that can contribute to water heater explosions, and it's not always apparent which one is the culprit.
What To Do When Water Heater Leaks
If you find water dripping or seeping out of your water heater, or pooling around it, it means your water heater is leaking. If you find a leak, it may be best to call a plumbing professional to diagnose the problem and determine how best to handle it. If you choose to tackle it on your own, there are a few things you can do.
TURN OFF THE COLD WATER SUPPLY
Shut off the cold water going to the tank by closing the valve located on the cold water pipe that feeds into the top of the tank. To close off this or any other water shutoff valve in your home, turn it clockwise, just as you would turn off the water at a regular faucet. If your water heater has a lever-type cold-water shutoff valve, turn it 90 degrees from its open position to close it off. If there is no water shutoff valve available, you'll have to turn off the main water supply to your home.
TURN OFF THE POWER
Next, shut off the power to the hot water tank at your home's electrical breaker box. If you don't shut off the power, the heating elements within the tank could continue to stay hot, which could pose a fire risk.
If you have a gas-powered water heater, you'll also need to shut off the gas line leading into the tank.
FIND THE LEAK
Now it's time to determine where the leak is coming from. Likely locations are the T&P valve, the drain valve or one of the pipes or fittings that feed into the top of the tank. If you see any rust or corrosion on the outside of your water heater's tank, pipes or fittings, these could also be the source of the leak.
REPAIR THE LEAK
Once you determine the source of your water heater leak, you'll have a better idea of what steps you need to take to fix the problem. It may be a simple fix—such as using a wrench to tighten fittings or replacing the T&P valve—but it may be something more complicated. You may even need to drain the tank, remove the water heater and install a new one.
If this unfortunate event happens to you, give SERVPRO of Milton/Braintree a call 781-341-7007 no matter what time, we will come out and make it "Like it never even happened."